Successful Pastoral Transitions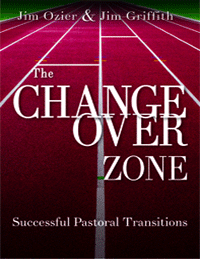 The Changeover Zone addresses a critical and perennial need in the church: the process of handing the baton of pastoral leadership from one person to the next. Authors Jim Ozier and Jim Griffith offer practical, clear instruction and guidance for both clergy and congregations. They provide detailed sections, especially for clergy who are taking over from founding pastors and those replacing long-tenured pastors.
The book is packed with real-church examples, helpful tips, and tactics that have been proven successful. This resource will expertly guide pastors, supervisors, and congregations in almost any church setting or denomination.